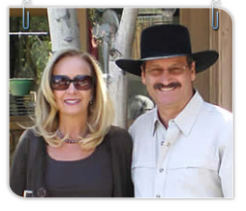 Michael was born in Guam USA and has lived in Hawaii, California, Greece, Spain, Florida, Newfoundland, Canada, and New Mexico. Moving from San Diego, California where he owned and operated Michael's Moving and Delivery for 20 years.
He has now called New Mexico home for 27 years.
Barbara is a partner and active participant in the business. She was born and raised in Minneapolis, MN and has been a New Mexican for 38 years. Loves: green chili, decorating, dogs (boxers), dancing, the desert, and New Mexican sunsets and sunrises. Very supportive of Michael's community involvement and manages the office, sets up programs, produces all materials for fundraising groups, and organizes and schedules programs.
Need Fundraising? We Can Help You!
60% Profit! On $20 card. Make $12 per sale!
No ordering time!

All cards are given upfront to your group.

No risk!

Unsold cards can be returned.

No down payment!

Payment due in 30 days.

No minimum order!

We work with all size groups.
Offers valid for 10-14 months.